"The Mission of the Kernersville Foundation is to provide Financial assistance to non-profit organizations that serve the Kernersville Community"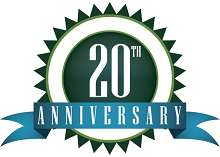 Kernersville Foundation's 20th Anniversary
– May 7, 2019 –
First Christian Church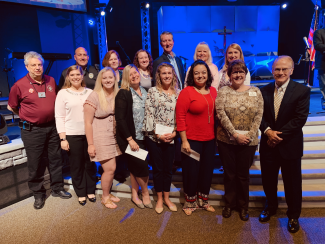 2018 Annual Fundraising Campaign
'Give Back to Community' - KNews 9/25/18
Kernersville Foundation seeking donations from the community - The Kernersville Foundation is embarking on their Annual Campaign to support their mission to provide financial assistance to non-profit organizations that serve the Kernersville community, and they need your help. (Full story HERE!)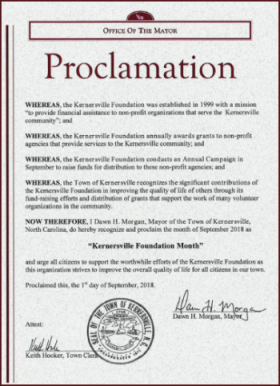 2018 Proclamation - Dawn Morgan, Mayor
2018 Annual Fundraising Campaign
"Community Discussion on the Opioid Crisis"
Sept. 27, 2017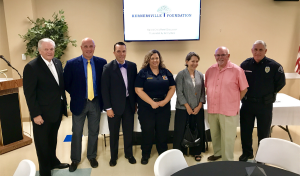 The Kernersville Foundation hosted a panel discussion this morning related to the deadly epidemic that is ravaging our communities. Panel members included Dr. Chan Badger (Novant Health Region Physician Leader), Captain Tara Tucker ( Quality Management Coordinator Forsyth County EMS), Chief Tim Summers (Kernersville Police Department), The Honorable Lisa Menefee (Chief District Court Judge for Forsyth County), Dr. Pete Kunkle (Senior Pastor of First Christian Church) and was facilitated by WXII's Kenny Beck.
Deaths from opioid addiction have increased over 700% in Forsyth County since 1999. This situation must be addressed and remedied before more precious lives are lost.

September, 2018
Dear Friends,
The Kernersville Foundation is pleased to announce the 2018 Annual Campaign kick-off that begins September 1 and runs through October 15, 2018. Town Mayor Dawn Morgan has declared September 2018 as "Kernersville Foundation Month."
The campaign's goal is to meet the human needs found right here in Kernersville. Your support, along with others in our community, makes this goal possible each year.
We've all seen Kernersville neighbors in need – a homeless person or hungry child, an elderly friend who needs a ride to an appointment, a person who can use a helping hand to find a job and other situations where help is needed. My life is better, knowing that I am giving to deserving people. I am glad that I can share with you that ability to help our neighbors again this year.
The Foundation actively assists non-profits serving the Kernersville community. Since 1999, we have facilitated a greater number of grants each year. The Kernersville Foundation, Inc., has awarded two hundred thirty-six grants totaling $537,435 to the following local agencies:
| | | |
| --- | --- | --- |
| Care Net Counseling | Ciener Botanical Garden | Crisis Control Ministry |
| Friends of the Library | Kernersville Cares for Kids | Kernersville Museum |
| Kernersville Little Theatre | Shepherd's Center | Lamb Foundation |
| Kernersville Cycling Club | Korner's Folly | Next Step Ministries |
| Kernersville Downtown Council | Kernersville Family YMCA | |
| Mayor's Council for Persons with Disabilities | Kernersville Christmas Stocking | |
Kernersville has a reputation as a caring community and the citizens of Kernersville have always come together to meet the needs of their neighbors. Since the Kernersville Foundation, Inc. is made up of all volunteers, you are assured 100 % of any donation or gift you make goes directly to the local non-profit agency(s) of your choice or as directed by the Advisory Board. The Community Advisory Board is comprised of representatives from Kernersville civic clubs and other community leaders to provide a broad view of the local needs.
Thank you in advance for your support during the annual campaign which is important to continue our mission to serve the community




Jim Bland
Kernersville Foundation, Inc.
Annual Campaign Chairman
List of
2018 Annual Campaign Donors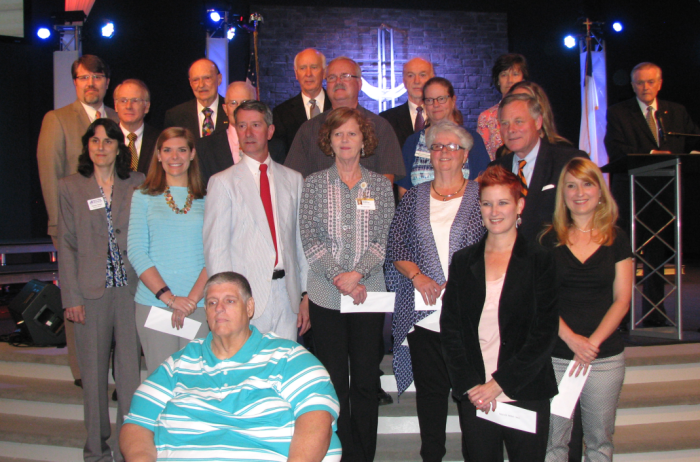 (All pics can be found here)
-----------------