NON-PROFIT(s) of the MONTH

June 2021 - Kernersville Little Theater

The mission of Kernersville Little Theatre is to provide an avenue for development in all aspects of theatrical arts for all within the community and to provide entertainment for the community by offering a series of well-staged performances of live theater.

---


<! - Jan. - Kernersville YMCA & The Lamb Foundation> <! - Feb. - Kernersville Cares for Kids & Downtown Council > <! - March - Korner's Folly & Friends of the Paddison Library > <! - April - The Cycling Club > <! - May - Ciener Gardens > <! - June - Kernersville Little Theater > <! - July - Shepherd's Center > <! - August - Next Step Ministries > <!- Sept. - Kernersville Little Theater > <!- October - Care Net Counseling & Mayor's Council for Persons with Disabilities> <!- November - Crisis Control Ministries > <!- December - Christmas Stocking Fund >

Supporting non-profits - Kernersville Foundation awards grants to Kernersville's non-profits
The Kernersville Foundation has again, this year, distributed significant grant funding to a number of non-profit organizations in the Kernersville community, even in the midst of the Covid-19 pandemic and reduced funding support.
In total, 16 non-profits have received grants in amounts ranging from $500 to $10,000. The total 2020 grant distribution is $75,000.
Each year, the Kernersville Foundation holds an annual banquet in which they award grants to non-profits in Kernersville. This year, however, due to the COVID-19 pandemic, the Kernersville Foundation will not be hosting the annual event.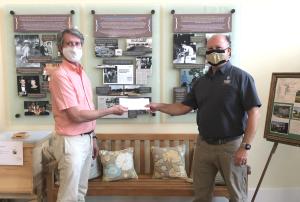 "During trying times, it is more important than ever for us to deliver upon the mission the Foundation was built upon – to provide financial assistance to non-profit organizations that serve the Kernersville community," said Kernersville Foundation President Jeff Taylor. "Funding to the 16 recipients is coming at a time when it is clearly needed the most. Overall, private and public financial support is down across the board with these organizations, but demand for the services they provide remains – and, in many cases, has significantly increased."
New grant recipients in 2020 include the Kernersville chapter of The Salvation Army and Seed2Seed. Seed2Seed is a God inspired and established non-profit community outreach garden program that works to link churches with the community through gardening. Seed2Seed is a four-acre sustainable education farm, located at Living Hope Church. The hub farm is centered around hands-on sustainable farming and gardening education for the community. The education farm also acts as the main hub for supplementing any new gardens until they are up, running and producing.
Seed2Seed Founder Chantal Mullen noted how thankful they are for receiving this year's grant.
"We are super thankful to be a recipient and just feel privileged and blessed to be a part of the Kernersville community," she said. "It is vital that we get funds to run the farm and classes and with COVID going on, a lot of our other avenues aren't even available to us, so this will be helpful."
Kevin Bugg, the advisory council chair for The Salvation Army Kernersville Corps, shared how the grant awarded to the non-profit is helpful.
"Having a community grant really helps the community with food insecurity, and one of these things is being able to purchase food and paying for the mobile food pantry we just bought, so we are able to deliver to homebound residents," he said. "We've really, with COVID, doubled our clients who have been coming to get food, so this really helps."
Other recipients include Next Step Ministries, Crisis Control Ministry, The Shepherd's Center, Kernersville YMCA, Kernersville Cares for Kids, Körner's Folly Foundation, Paul J. Ciener Botanical Garden (PJCBG), Kernersville Little Theatre, Kernersville Museum, CareNet Counseling, Kernersville Christmas Stocking, Kernersville Downtown Council, LAMB Foundation and Friends of the Library.
John Whisnant, PJCBG executive director, noted that the grant they received will go toward their on-going elementary school programs and garden maintenance to support those programs.
"Grants such as this one fill a need around the day-to-day responsibilities and help with core, base support of the Garden," he said, adding that grants account for about 15 percent of PJCBG's total operating budget each year.
Grant applications are reviewed annually and grants are managed by an all-volunteer board made up of Kernersville community leaders.
"Since our organization is currently made up of volunteers, we are able to channel funds raised to where they are needed the most and avoid applying them to operating expenses. A portion of funds raised are invested and build over time to have an even bigger impact in the community. We have established a very efficient model," said Taylor.
Since 1999, the Kernersville Foundation has distributed over $1.3 million in grants to local non-profits, with a mission to provide financial support to non-profit organizations that serve in the Kernersville community. For more about the Kernersville Foundation or to make a donation, visit www.kernersvillefoundation.org.
The mission of the Kernersville Foundation is to provide financial assistance to non-profit organizations that serve the Kernersville community.
Kernersville non-profit organizations
| | |
| --- | --- |
| Care Net Counseling | Kernersville Family YMCA |
| Crisis Control Ministries | Kernersville Little Theatre |
| Ciener Botanical Gardens | Korner's Folly Foundation |
| Friends of the Library | Lamb Foundation |
| Kernersville Cares for Kids | Next Step Ministries |
| Kernersville Christmas Stocking | Shepherd's Center |
| Impact Triad | Kernersville Downtown Council |

Full Screen

- - > (Archive of Past Annual Meetings, Fundraisers, Members, etc. ) < - -